Financial Aid Refunds
New Fund Disbursement Process: Peninsula Card
Peninsula College has partnered with Higher One®, a financial services company serving higher education, to provide a new method for students to receive their financial aid and scholarship funds.
With this new fund disbursement process, you will now have the ability to access these funds using the Peninsula Card, a debit card that will be sent to the mailing address you have provided to the college. Your new Peninsula Card is designed to provide you with increased choices to access financial aid, scholarship or school refunds. These options include:
A same-day deposit to the OneAccount, an FDIC Insured, no monthly fee, no minimum balance checking account. With the OneAccount, you receive your funds the same day they're released by Higher One.
Transfer to your current bank account (ACH) (refunds available in 2-3 business days).
A paper check (funds available in 5-7 business days).
Look for the green envelope in the mail from Higher One and Peninsula College.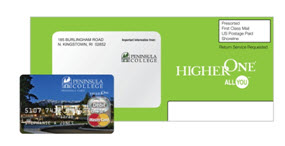 It contains your Peninsula Card (a debit, NOT credit, card). Carefully follow the instructions and remember, even if you are not currently expecting funds, you may in the future. Your new Peninsula Card will be mailed to the address on file with the college. Therefore, it is critical that you verify your mailing address as soon as possible at www.pencol.edu/current-students and click on Address Change.  You will need your SID and PIN.

For important information on how to use the One Account Card for Free: https://www.higheroneaccount.com/student/out/useforfree.do
We understand you may have questions about the new procedure and invite you to learn more at www.peninsulacard.com.



Financial Aid Office Hours:

Monday, 9:00AM - 2:00PM
Tuesday - Friday 9:00AM - 4:00PM
Closed Saturday, Sunday & Holidays

Email:
financialaid@pencol.edu

Phone: (360) 417-6390
Fax: (360) 417-6395